Our recruitment franchise opportunities
21st July 2020
Auckland Christchurch Franchise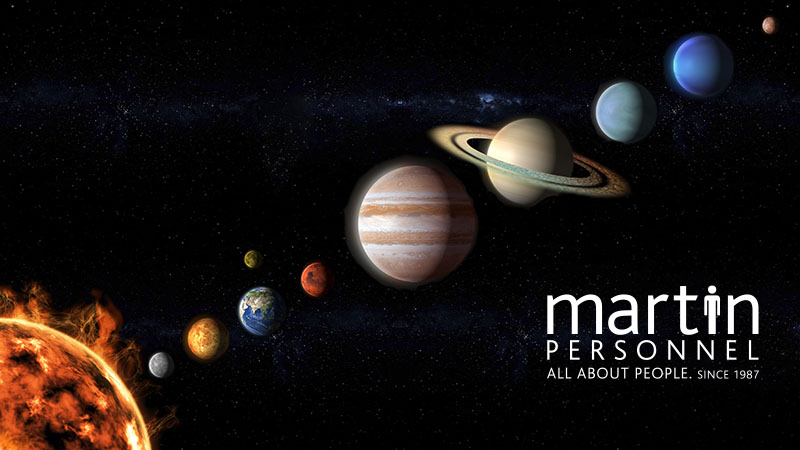 and how they will help align the planets…
After thirty years in the industry, Martin Personnel knows what it takes to survive. The difference between surviving and thriving really comes down to four key components. Sales success, operational excellence, fantastic back office systems and being well financed.
In my experience, it has been a constant battle to align these four components at the same time. When all the planets align it's like Nirvana but it doesn't happen often. As I move into my sixties, I just don't have the energy and enthusiasm I had in my thirties and forties to manage people to do the first two components. However, after twenty years in the industry and ten years of investment in software, I do have a fabulous platform to offer motivated and energetic recruiters to build their own business upon so that everyone can thrive.
For a small initial fee, a Martin Personnel franchise gives you the opportunity to either take on a franchise on your own or to do it in a partnership with someone you know and trust. Essentially all you have to do is find the clients, find the candidates, join them together in the software programme and process the hours each week. You get to choose your vertical and your preferred area. You determine whether you want to run a 360 operation on your own or build a substantial business employing other people. You don't have to worry about finance, and you don't have to worry about the accounting. We will take care of those things for you.
We think this is an ideal opportunity for people with experience in the temporary space but is equally valid to those permanent recruiters who either don't have the platform or the finance to provide temporary or contract services. These are a great 'add on' to permanent recruitment and now is a great time to get underway because of the surge in demand following the pandemic.
You don't need an office, but if you want your own office, you can have one. The essentials are really just a branded car, a computer and a cell phone. Your costs will be minimal. Martin Personnel is a well-established brand, known across the Auckland and Christchurch markets.
There is existing marketing collateral available and this will continue to grow. As more franchisees join you will have a group of people to help you grow your business as you help each other out. You will own your own business and you will be the boss.
The major opportunity is to grow your business to a size where it is ready to sell and that equity is yours. What a fabulous way to get on the property ladder, to buy the launch you always wanted or to do whatever it is you have always wanted to do but haven't had the money. This is not like a JV where you get to have a great income but no equity. A lot of franchises don't allow you to take equity with you, but we will. We know that it is not an easy industry, so you will deserve to reap those rewards along with the intrinsic rewards of helping people.
If this sounds like something that might interest you, give me a call to discuss or visit the franchise page.